CHARNAUD® specialise in providing quality PPC&E to individuals working in hazardous environments. The type of PPC&E, as well how you care for your garments, can be the difference between life and death in extreme situations. We are sharing insight into 4 different sectors of ranges to ensure our clients are educated on everything that they need to know.
Learn More About Our Quality PPE
Read on for more information on the CHARNAUD® FIRE SAFE® head-to-foot range, BREATHE-SAFE® range and garment care.
1. CHARNAUD® Fire-Safe Air-Lite Bunker Suit and FIRE-SAFE® Head-To-Foot Range
CHARNAUD® FIRE-SAFE® AIR-LITE bunker suits are fully certified to EN469. CHARNAUD's light weight FIRE-SAFE® AIR-LITE bunker suit offers excellent air permeability, outstanding breathability with exceptional moisture management, keeping the wearer dryer.
CHARNAUD® FIRE-SAFE® AIR-LITE bunker suits has been ergonomically designed to ensure comfort and movability whilst the fire fighter has to work in the most hazardous conditions.
CHARNAUD® also offers a range of head-to-foot accessories in their FIRE-SAFE® range.
The nature of firefighting means that fire suits pick up all kinds of substances, dirt and volatile organic compounds (VOC's). These VOC's can be carcinogenic and are harmful to the wearer should they manage to penetrate the membrane of the fire suit. To keep your fire suit performing at its best, it needs to be laundered regularly to avoid the build-up of dirt and VOC's.
Heat stress is one of the leading causes of fatalities amongst fire fighters. Although heat stress may not directly cause death, it increases physical fatigue and overall stress on the body. The CHARNAUD® FIRE-SAFE® AIR-LITE bunker suits assists with reducing heat stress due to its lightweight design.
Now Read: Steps to Effectively Remove PPE
CHARNAUD® FIRE-SAFE® Wildland Fire Fighting Coverall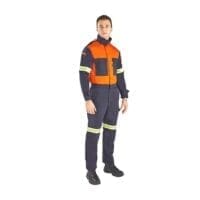 Whatever the environment a fire fighter finds themselves in, the risks remain the same. Fire behaviour is highly unpredictable and extremely dangerous, and firefighting PPE/PPC needs to enable the wearer to perform at their absolute best, in every situation.
Wildland fire fighters primarily work outdoors and are often exposed to the elements in wild and rugged terrain. Fighting fires in places like forest and grassland is very physically demanding because it involves cutting away brush and digging trenches in a bid to starve or stop a fire. There is often no access to piped water in these environments, so wildland fire fighters must rely on other methods of control.
While they too are professional fire fighters, their job is focused on stopping a fire in its tracks before it spreads too wide.
A wildland fire fighter's gear appears quite different to that of a structural fire fighter and will comprise a CHARNAUD® FIRE-SAFE® flame resistant coverall which is highly moisture absorbent and ergonomically designed for comfort and movement.
2. CHARNAUD® BREATHE-SAFE® Disposable Respiratory FFP2 and KN95 Masks
CHARNAUD® BREATHE-SAFE® Disposable folded FFP2 and KN95 masks provides light weight, comfortable and effective protection against viruses transmitted by respiratory droplets, dust and fine particles. These masks are manufactured to the highest standards and are tested and certified to have proven filtration qualities. As global leaders in safety, CHARNAUD® knows what it takes to stay safe, and their BREATHE-SAFE® FFP2 and KN95 masks filter out 94% and 95% respectively, of all particles of 0.3 microns or larger. The superior protective qualities of these masks are further enhanced by their fit, which is designed to snugly seal off the nose and mouth of the wearer. The masks have a concealed nose bridge which offers greater comfort and a customisable fit to suit different facial proportions. Its shape also means better comfort and improved breathing.
As well as wearing your CHARNAUD® BREATHE-SAFE® mask, you should also practice good hand hygiene and touch your mask as little as possible. If you do need to touch your mask, ensure your hands have been cleaned with soap and water or alcohol-based hand sanitiser.
Knowing that CHARNAUD® manufacture and supply certified face masks can give your greater peace of mind.
3. CHARNAUD® Garment Care
As manufacturers and suppliers of industry-leading PPE, CHARNAUD® garments are focused on delivering quality and the utmost protection.
As much as wearing the correct PPE for the hazard you face is important, so is caring for your PPE properly. Proper care means your PPE will retain its unique protective qualities and also have a longer lifespan.
Whether you are wearing any of CHARNAUD® ALU-SAFE®, MEDI-SAFE® or SURVIVE-FLASH®, FIRE-SAFE®, METAL-SAFE®, our garments must be cared for according to the recommended guidelines. All garment care guidelines can be found affixed on the inside of your garment and will include specific wash care instructions.
4. CHARNAUD® METAL-SAFE®, Match the Ratings with the Hazard
Understanding how your CHARNAUD® METAL-SAFE® PPE/PPC works also means knowing what garment ratings mean.
CHARNAUD® METAL-SAFE® fabric, used in METAL-SAFE® garments, undergoes a series of strict tests to determine several key performance factors.
The results of these test are expressed as a symbol with an accompanying number to indicate the performance of a fabric.
Molten metal splash will be expressed as D1 for Aluminium Splash and E2 for Iron Splash.
CHARANUD® METAL-SAFE® aluminised garments are suited for applications requiring good insulation and superior radiant heat protection.
The aluminised surface is most effective for stopping radiant heat and the mirror surface reflects the radiant heat away.
Order Your PPE from CHARNAUD Today
CHARNAUD® always have your safety in mind and are constantly improving our garments to ensure you have the best protection possible. For more information on our products or to get a quote, visit our website or get in touch.
Now Read: How Common is an Arc Flash?